EWA: Learn English & Spanish
8.36.0
Learn English While Having Fun
Are you moving to a new country and want to learn the local language? Looking for an app to learn English? If yes, then this language-learning app is exactly what you need. EWA: Learn English & Spanish is a useful app that lets you learn a new language by offering topic-based courses that are presented in a fun and exciting manner. It adopts a different teaching methodology that is based on interactivity rather than a simple repetition of words. You do get to enhance your vocabulary in this app too but through a variety of interactive exercises. It even uses snippets from popular TV shows and movies to teach complex words. You will be given small tests after each lesson to test how much you have learned.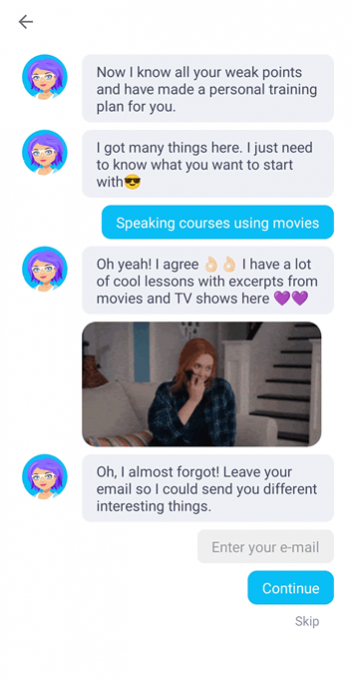 EWA: Learn English & Spanish has an intuitive user interface that makes this app easy to use for everyone. Its user-friendly design and layout ensures that you won't have any trouble finding the course that has been customized just for you. However, before you start your journey to learn English or any other language, EWA will ask you about your native language. It will also try to assess your competence level in the language you want to learn. You will be asked a series of questions to determine that. At the end of these questions, the app will have a good idea of the areas that you are weak in. It will create a personalized course that will try to improve those weaknesses.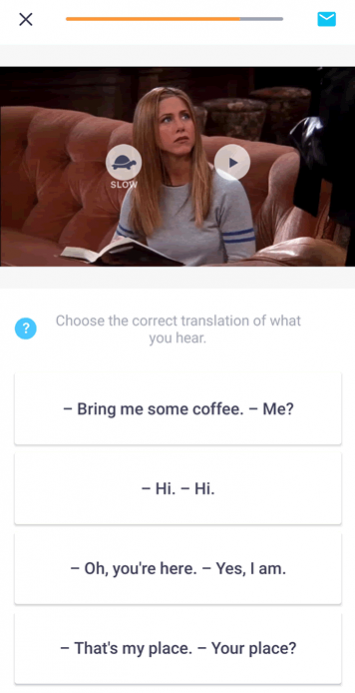 This language-learning app isn't just a dictionary that tells you words and their meanings. It has been designed to interact with you like a language instructor would. You will be given lessons that are based on specific topics. For instance, when trying to learn English, your initial lessons would focus on greetings and common phrases that are needed to engage with the locals. Each lesson comprises of various exercises that help you memorize the words and also demonstrate when and how it is used in conversation. To make the lessons more fun and relatable, snippets from TV shows and movies are also used in the lessons. At the end of the lessons, you will have to pass the test to move on to the next lesson in the course.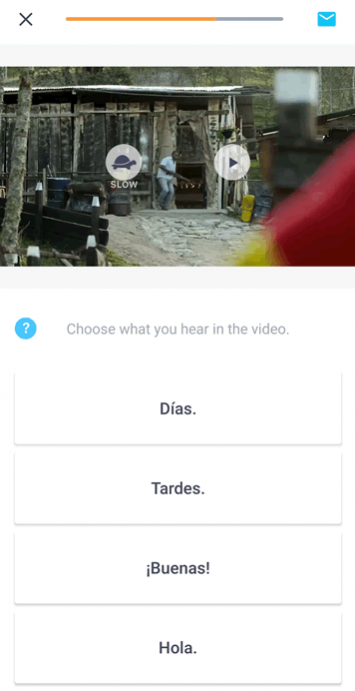 EWA: Learn English & Spanish don't only rely on movie and TV shows to teach you languages. It has a huge library of books as well. You can find books on many languages here. There are translations available in your native language for these books so that you can read them and improve your language skills further. You can learn new words and enhance your vocabulary by reading these books too. There are fun word games available in this app as well. If you want to take a break from the lessons and want to have some fun, you can play these word games. They will aid your efforts to learn English and other languages and also test your knowledge.
Features:
Intuitive user interface
User-friendly design and layout
Learn up to 5 different languages
Assess your current level by asking questions
Topic-based courses depending on your level
Interactive lessons with various exercises
Answer correctly to move to the next lesson
TV and show snippets to make learning fun
Huge library of books in various languages
Play fun word games to test your knowledge
Conclusion:
EWA: Learn English & Spanish is an app that is ideal for people who are having difficulties speaking the English language or want to learn a new language like Spanish or French. It gives you interactive lessons that contain snippets from movies and TV shows to facilitate your learning process. You can learn English within a short of period of time with the help of this app.
RELATED PROGRAMS
Our Recommendations
---
---
---
---